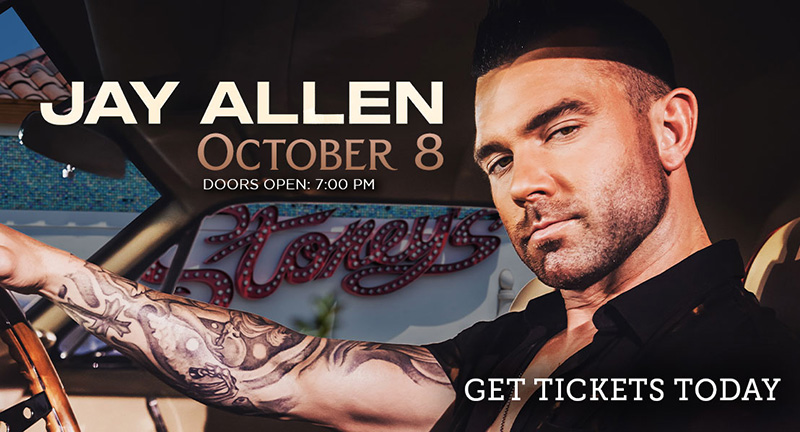 Jay Allen is coming through Stoney's Rockin' Country!
Friday night, October 8th, 2021
Doors are at 7pm and the show starts at 10pm!
This is an 18 and over event!
GA 21+ tickets are $10.00 in advance, $15 at the door!
18+ tickets are $15 in advance and $25 at the door!
JAY ALLEN

Small town Iowa native, Jay Allen, made his move to Nashville in 2013 and very quickly gained attention from the country music industry. He signed his first publishing deal in 2014, and then teamed with Sony/ATV in 2016.
In 2017, Jay was honored as "The Highway Find" on Sirius XM with his song "Sounds Good To Me".
In 2018, Jay wrote a song for his mother who recently passed away from Alzheimer's at only age 54, titled "Blank Stares". A video of him performing the song live went viral with over 300 million views on Facebook, and has been featured on ABC World News, People TV, People Magazine, Pickler & Ben, Forbes, and Taste of Country among others. Jay has since helped raise $35 million to fight the disease and continues to perform at charity events across the country for the Alzheimer's Association.
In 2019, Mickey Jack Cones partnered with Emmanuel Zunz(ONErpm) to form Verge Records. They signed Jay as their flagship artist and have since begun to release music. Their strategy is to release a single every 8 weeks, and when a certain number of metrics are met on both streaming and YouTube, a promo team is in place to take Jay to radio. Other acts signed to Verge Records include Trace Adkins, Chuck Wicks, and Scott Stevens.
"Jay is a powerhouse – beautiful voice, heart of gold, incredible story, and a work ethic like I've never seen. I look forward to showing the world what this artist is made of, and I can confidently say that Jay is the future of country music", says Mickey Jack.