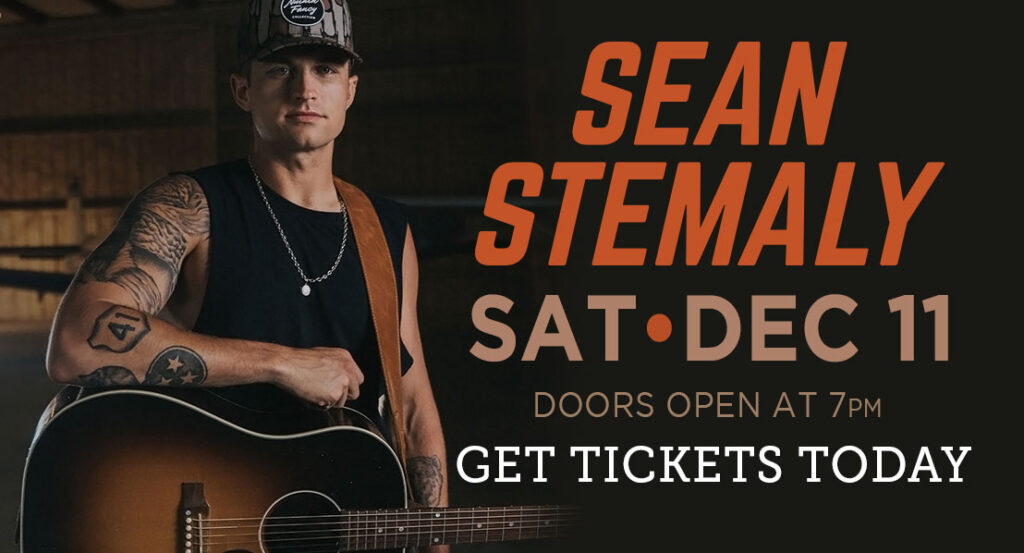 Sean Stemaly is coming through Stoney's Rockin' Country!
Saturday night, December 11th, 2021
Doors are at 7pm and the show starts at 10pm!
This is an 18 and over event!
GA 21+ tickets are $5.00 in advance, $10 at the door!
18+ tickets are $15 in advance and $25 at the door!
Sean Stemaly:
When your first recordings are made in the cab of a Case IH 9370 tractor, there's really only one way for you to sound – and that suits Big Loud Records talent Sean Stemaly just fine. Now planting the seeds of Country stardom with the vivid, open-prairie romance of "Last Night All Day," he's equipped with baritone richer than river-bottom soil, and he knows how to use it.
"It's easy to sing songs about Country life when you've lived so much of it," says the heavy equipment operator-turned-artist. "That's literally all I did with my life was hunt, fish, go to work, go home and sleep a couple of hours, get up and do it all again. … Now I want to touch base on all that and make sure it's shown in my music."
Stemaly's already taken his diesel-fueled Country approach nationwide, touring with stars like Morgan Wallen, Chris Lane, LANCO, HARDY and Riley Green. But the story begins on a slice of heartland between the coal mines of Madisonville, Kentucky, and the river town of Evansville, Indiana. "It's just Country and there's a lot of down-home rednecks," Stemaly says with pride. "It's a good place to grow up."
Working in the fields when he wasn't on a construction site, Stemaly began posting videos of himself singing "tractor concerts" online to pass the time, then joined the vocal team of a megachurch to sing for 5,000 congregants every weekend. He caught the music bug, he admits, but soon shook it off as the seasons changed and work piled up. A whole year passed before a friend invited him to Nashville for a songwriting weekend.