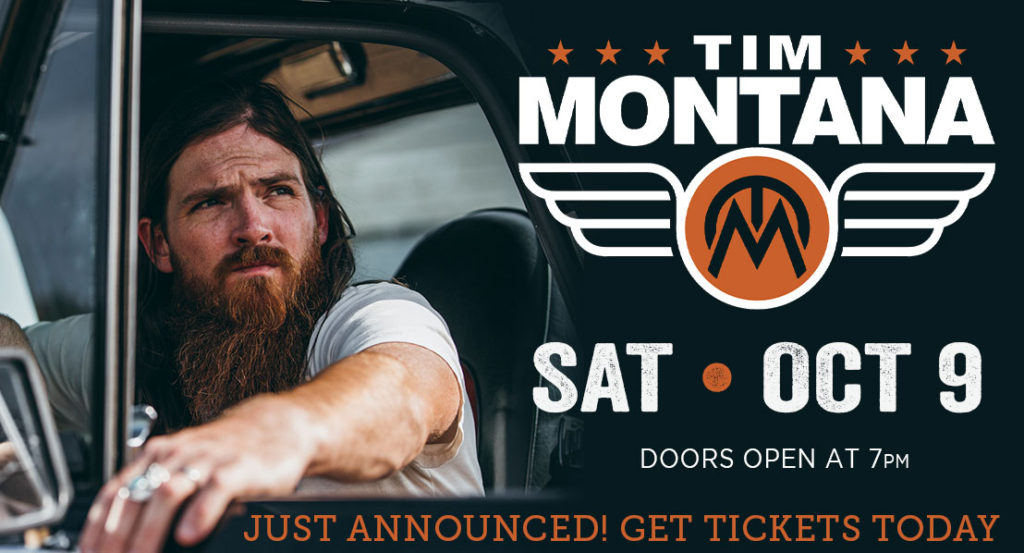 Tim Montana is heading back to Stoney's on October 9th!
It's a "Pop Up" show and ya… it's coming fast
This is an 18 and over show
Doors are at 7pm and the show starts at 10pm!
GA 21+ tickets are $10 in advance
GA 18+ tickets are $15 in advance

Tim Montana:
Whether he's performing onstage with ZZ Top in front of a crowd of thousands, kicking it with his friend Dave Grohl at a Foo Fighters gig or racing ATVs with extreme-sports star Travis Pastrana, Tim Montana has a knack for always being in the right place at the right time. But don't chalk it up to luck. Rather, it's Montana's innate talent, unrelenting hustle and magnetic charisma that have made the country-rock singer-songwriter a dude that everyone — from the famous to the blue-collar — wants to be around.
Raised in the wilds near Butte, Montana, Tim Montana (yes, it's his real name), entered the world as an off-the-grid thrill-seeker. He and his buddies would take to the nearby mountains to fish, hunt and raise hell as an escape from their rustic home lives — Montana grew up without electricity. Soon, however, he sought out a different high: the kind that only comes from performing live music. Eager to perfect the guitar playing he began when he was just 6 years old, he moved to Los Angeles to put his time in studying his craft.
"Music was an escape from being secluded in the woods. When I played guitar and closed my eyes I was leaving Butte and seeing the world," Montana says. "When I moved to L.A., I went from having no electricity to living on Hollywood Boulevard. It was quite the culture shock."