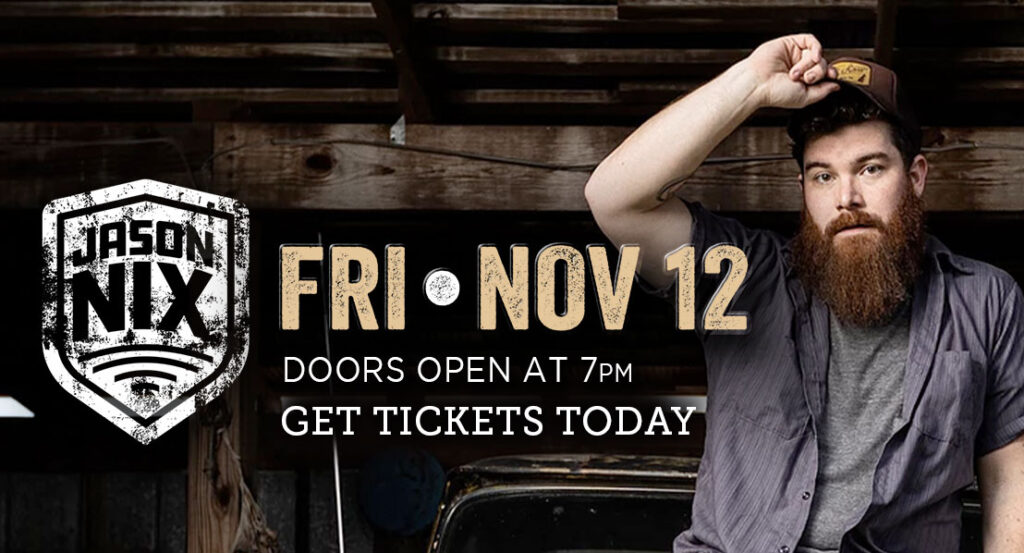 Jason Nix is on his way to Stoney's Rockin' Country!
Friday Night, November 12th, 2021
Doors are at 7pm and the show starts at 10pm!
This is an 18 and over event!
GA 21+ tickets are $5 in advance, $10 day of show!
18+ tickets are $15 in advance and $25 day of the show!
Years before Jason Nix hit the highway, playing nightly shows that mixed the modern twang of country music with the southern spirit of blue-collar rock & roll, he grew up working on cars with his father. Music and automobiles ran in the family. One minute, a young Jason would find himself accompanying his dad to band practice, where the older Nix would play bluegrass songs. The next minute, the two Nix men would have their heads buried in an engine, diagnosing some mechanical issue while a nearby radio blasted country songs.
The experience left a permanent mark on Nix, who bought a 1971 Chevelle not long after college and began restoring it. As his own music career took off — not only as an acclaimed frontman, but also as a songwriter and sought-after instrumentalist — so did the Chevelle's complete overhaul.
"It's my time machine," he says of the vehicle. "There's no radio and no AC, and it's my gauge whenever I'm writing songs. If my car had a radio, what would I want to hear when I'm driving it? That's the feeling I want to chase. The freedom that car makes me feel is the sound I want to make."
Born in Nashville, Nix moved to Mississippi as a 5 year old. His upbringing was a musical one, filled with the down-home sounds of bluegrass and country. George Strait, Vince Gill, Alison Krauss, Nickel Creek, and Travis Tritt were childhood favorites, and as Nix grew older, he added rock-influenced artists like the Allman Brothers, the Eagles, and Charlie Daniels Band to the mix. That broad range of influences helped shape Nix's own music, which he began playing as a member of a regionally-touring band in high school. Unable to shake his lifelong connection to Nashville, he moved back to Tennessee one day after his graduation.